Incoloy 825 Sheets Plates Coils
Stainless Inox is a known distributor, trader and supplier of Incoloy Alloy 825 Sheets Plates Coils, which is available in dissimilar shapes and sizes. Incoloy 825 Plates should not be used at temperatures where creep-rupture properties are design factors. Incoloy 825 Coils is readily weldable by the normal processes (GMAW (MIG), GTAW (TIG), SMAW (manual), SAW). Alloy 825 Sheets normally has optimum machining characteristics in the annealed temper.
Alloy 825 Plates is often used for Nuclear fuel reprocessing, Marine exhaust systems, Radioactive waste handling, etc. The fabrication of Alloy 825 Coils is typical of nickel-base alloys, with material being readily formable and weldable by a variety of techniques. The corrosion resistance of deposited weld metal for Nickel 825 Sheets from both covered electrode and bare wire is equivalent to that of the parent metal.
Nickel 825 Plates can be used primarily in applications where some pitting can be tolerated. For grinding, Nickel 825 Coils should be wet ground and aluminum oxide wheels or belts are preferred. Incoloy UNS N08825 Sheets is a nickel-iron-chromium alloy with additions of molybdenum and copper. Incoloy Din 2.4858 Sheets is classified as a class 'C' alloy and is relatively easy to machine and weld. As such Incoloy Alloy N08825 Plates still plays a significant role in heat exchangers for chemical processing, pollution control equipment, oil well and gas gathering pipes. Nickel N08825 Coils is especially resistant to sulfuric and phosphoric acids.
Incoloy® Alloy 825 Plates, ASTM B424 Incoloy DIN 2.4858 Hot Rolled Plates Suppliers, Incoloy ®825 Coils, Incoloy 825 Plates, ASME SB424 Incoloy Alloy 825 Sheets Stockholders in Dubai.
825 Incoloy Alloy Plates, Incoloy® Alloy UNS N08825 Plates, Incoloy N08825 Coils Supplier in UAE, 825 Incoloy® Cold Rolled Sheet, Incoloy Alloy Chequered Plate, Incoloy® Alloy JIS NCF 825 Shim Sheet, Incoloy 825 Perforated Sheets, Incoloy® Alloy 825 Sheets Exporter.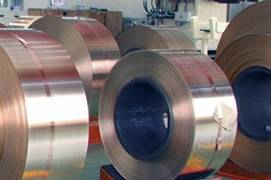 Incoloy 825 Coils
Incoloy 825 Sheets
Incoloy 825 Plates
Incoloy 825 Sheets, Plates & Coils Specification :
| | | |
| --- | --- | --- |
| Standard | : | ASTM / ASME SB 424 |
| Range | : | 5mm To 150mm |
| Thickness | : | 0.1mm to 12 mm Thk |
| Hardness | : | Soft, Hard, Half Hard, Quarter Hard, Spring Hard etc. |
| Finish | : | Hot rolled plate (HR), Cold rolled sheet (CR), 2B, 2D, BA NO(8), SATIN (Met with Plastic Coated) |
| Form | : | Coils, Foils, Rolls, Plain Sheet, Shim Sheet, Strip, Flats, Blank (Circle), Ring (Flange) |
| | | | | | | | |
| --- | --- | --- | --- | --- | --- | --- | --- |
| STANDARD | UNS | JIS | WERKSTOFF NR. | AFNOR | BS | GOST | EN |
| Incoloy 825 | N08825 | NCF 825 | 2.4858 | NFE30C20DUM | NA 16 | ЭП703 | NiCr21Mo |
Incoloy 825 Sheets, Plates & Coils :
> Incoloy 825 Sheets
> Incoloy Alloy 825 Coils
> Incoloy® Alloy 825 Plates
> 825 Incoloy Alloy Sheets
> ASTM B424 Incoloy 825 Sheets
> ASME SB424 Incoloy 825 Sheets
> Incoloy UNS N08825 Plates Supplier
> Incoloy® 825 Chequered Plate
> Incoloy® Alloy 825 Shim Sheet
> Incoloy 825 Plates
> Incoloy® Alloy ASME SB424 Sheets
> Incoloy WERKSTOFF NR. 2.4858 Plates
> 825 Incoloy Alloy Sheets Exporter
> Incoloy Alloy 825 Hot Rolled Plates
> Incoloy® Alloy NCF 825 Cold Rolled Sheet
> Incoloy DIN 2.4858 Sheets
> Incoloy JIS NCF 825 Perforated Sheet
> Incoloy® N08825 Coils Manufacturer
Origin of Material