Stainless Steel Colour Designer Sheets manufacturer, supplier in dubai, UAE
We Stainless Inox are the reliable supplier and exporter of the very good quality of SS color sheets to the global and local clients. We are taking care of all our clients and are working with greater efforts so that we can easily fulfill the needs of the clients effectively. We are providing a high quality of color sheets to the clients that can easily be acquired at various specifications like in grades, wall thickness, width, coating, length, etc. It is too manufactured and provided to the clientele at cut-made specifications.
Stainless steel can be easily colored by applying the paint or through chemical treatments. Both are highly durable in normal services but repairing damages can be difficult, particularly for finishes by the chemical treatments. Paint system depends upon introducing second layers of the material on the stainless steel whereas chemical system depends on altering the thickness and passive film nature.
Coloring of the stainless steel sheets is limited to the sheet product and it is possible to color the made-up components. The only premium quality of SS sheets can be chemically colored on a production basis. Chemical coloring of the SS color sheets is using the mixture of sulfuric and chromic acid that develops the thickness of passive film on steel surface, depending immersion time. It is a 2 stage immersion process that needs close control on the operation's strictures and considerable operator skill to acquire the consistency in color. A blackened finish can be performed through immersion on the fused sodium dichromate salt bath at around 400 C.
The color produced is the result of the light wave interference effects as the light is reflected from the thickened oxide passive layer surface and steel surface and interface of the passive layer. With full care, the intermediate color is possible. The well finishes of the passive film are ranging from 0.02 microns for producing the green color effects between the sheet steel surface and passive layer.
The ranges of colors that are produced commercially that on austenitic 304 or 316 grade available is including red/violet, gold, green, black, bronze, blue, etc. Charcoal color effects with the treating satin polished sheets to the same situation that usually produces the blue on the non-polished sheet surface.
Ranges of the pre-finished surface can also be colored. It includes flat mechanically ground, polished or blasted finishes. Coloring can be combined with acid etch pattern for providing the wider ranges of luster, reflective effects, and texture.
SS Colour Sheet Stockholders in Dubai, Stainless Steel Color Coated Sheets, ASTM A240 Stainless Steel Colour Designer Sheets Suppliers, SS Gold Colour Sheets, Stainless Steel PVD Colour Coated Sheets Stockist.
SS Bead Blast finish Colour Sheet Exporter, AISI SS 316 Champaign Colour Sheets, Stainless Steel 304 White Gold Colour Sheets, SS 310 Nickel Silver Colour Sheets Supplier in UAE, SS 321 Rose Gold Colour Sheets.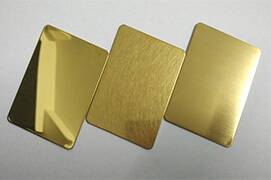 Stainless Steel Gold Colour Sheets
Stainless Steel Copper Colour Sheets
Stainless Steel Black Colour Sheets
Stainless Steel Colour Sheets Specification :
| | | |
| --- | --- | --- |
| Thickness | : | 0-1 mm,4-5 mm,3-4 mm,>5 mm,2-3 mm,1-2 mm |
| Material Grade | : | Gr. TP 201,202, 304, 304L, 304H, 304LN, 309, 309S, 309H, 310S, 310H, 316, 316L, 316H, 316LN, 317, 317L, 321, 321H, 347, 347H, 348, 348H etc. |
| Size (feet X feet) | : | 8x4, 10x4, 10x5 & More as per requirement |
| Application | : | Automobile Industry, Construction, Pharmaceutical / Chemical Industry, Oil & Gas Industry, Interior, Exterior, Elevator, Malls, Hospitals |
| Color Options | : | Gold, White Gold, Bronze, Red-Wine, Blue, Rose Gold, Nickel Silver, Copper, Green, Black, Champaign etc. |
Types Of Stainless Steel Colour Sheets :
> Stainless Steel Colour Sheets
> Stainless Steel Colour Designer Sheets
> Stainless Steel 304 Colour embossed Sheets
> Stainless Steel 316 Colour Designer Sheets
> Stainless Steel Rose Gold Colour Sheet
> Stainless Steel TI Cooated Colour Sheets
> SS 316 Mirror Black Colour Sheets
> Stainless Steel Designer PVD Sheet Dealer
> Stainless Steel 310 Satin Charcoal Colour Sheets
> SS 321 Copper Colour Sheets